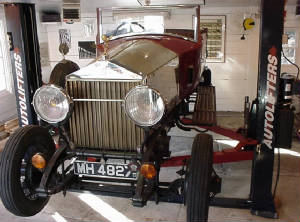 Wendell Smith's 1927 Rolls Royce
This British Phantom I carries a Windovers coach. It is one of three allweather bodies built for the Phantom I chassis. This car is the only known survivor. The car was sold new to a gentleman in Chicago. It was saved from the scrap metal drives in the 1940`s only to experience a similar fate sitting in an open field near Chamois, Missouri, for approximately twenty years. When the car was acquired the engine was seized from surface rust in the cylinders and almost all of the wood in the coach was rotted out. The good thing was the car had only 4,000 miles on it so most internal parts were like new. Remaining work includes finishing the fenders, installing windows, building the top and installing upholstery. Hopefully, in the near future the old gal will be back on the road again in all of her glory.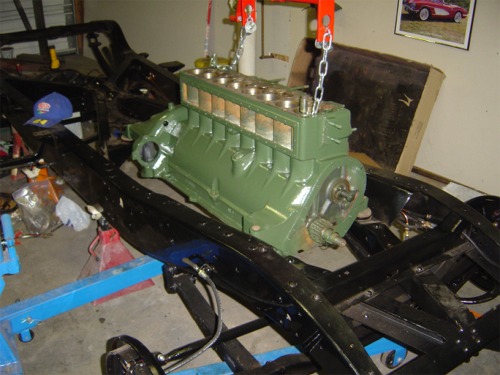 1933 Auburn 8-105 Salon Speedster
Here is the frame (before and after). The frame with engine is from just 2 weeks ago (Feb 06)!
I started on the frame in spring of 04 so it's been 2
years. Hope to start the engine after the Texas
CARavan but before Memorial Day. I plan on running the frame this summer so I can break it in before fall when I plan on putting the body on. I do all my own work (with a
little advice from dear old Dad of course) and have
done this all in my basement garage at my house.

Thomas E. Quick, CFA.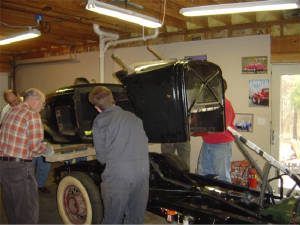 The Quick's had a Body raising March 3, 2007. Helping with the effort were Spirit Members Richard Quick, Bob Schuman & Gene Bossaller. The Speedster Body is now on the Chassis.